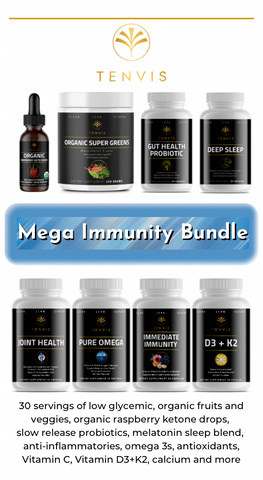 Mega Immunity Bundle
Save 10% when you buy Tenvis Bundles!  The Tenvis Mega Immunity Bundle boosts your body's immune system with all of our best products specifically designed to give you the strength to fight through cold and flu season and all year long.  Use plant based supplements to add super foods to...
Save 10% when you buy Tenvis Bundles!  The Tenvis Mega Immunity Bundle boosts your body's immune system with all of our best products specifically designed to give you the strength to fight through cold and flu season and all year long.  Use plant based supplements to add super foods to your routine and get some of nature's best phytonutrients working for you.

Each Mega Immunity Bundle contains:
Organic Raspberry Keto Drops
Organic Raspberry Keto Drops are an excellent addition for any weight loss journey. Our Raspberry Keto drops bring you the best selection of ingredients designed to help you in your pursuit of fat burning, energy production, and enhanced physical performance.* Below are some of the wonderful ingredients that we know you will love.
Raspberry Ketones are claimed to increases Adiponectin, a hormone that helps regulate metabolism.  Claims to cause the fat within cells to be broken down more effectively, helping burn fat faster. Studies show people with Higher levels of adiponectin have lower risk of obesity, DM type 2, fattly liver disease and heart disease.  Higher levels of adiponectin could help people lose weight and lower risks of many diseases.  An 8-week study of raspberry ketone supplementation resulted in weight loss, increase energy in men and women and reduction in hip and waist girth.
L-Cartintine helps the body turn fat into energy.
L-Arginine is an amino acid that helps the body build protein.
Tryptophan is an amino acid that is essential in humans as the body cannot synthesize it on its own and it must be obtained through our diet. It is a precursor to the neurotransmitters serotonin and melatonin and vitamin B3.
African Mango (Irvingia gabonesis) use may inhibit fat cell growth as well as show positive outcomes in reduction of body weight, waist size, blood sugar, triglycerides and cholesterol.
Grapefruit has a multitude of positive health benefits to include weight loss, reduction of cellulite, and overall immune system enhancement.*
EGCG (Epigallocatechin Gallate)is a powerful antioxidant in green tea used for reducing inflammation, aiding in weight loss, and prevention of certain diseases.*
Panax Ginseng may help fight fatigue, increase overall energy production and enhance physical activity performance.*
Maca Powder is claimed to boost energy, improve exercise performance, help the body gain muscle while also improving overall physical strength.*
Guarana, or Brazilian Cocoa, contains caffeine, theophylline and theobromine which are chemicals similar to caffeine to help boost athletic performance, increase energy, and help combat obesity.*
Garcinia Cambogia contains hydroxycitric acid (HCA) which has been studied for its positive effects on appetite suppression.*
Eleuthero, or Siberian ginseng, is used as an adaptogenic herb for its ability to enhance athletic performance and reduce stress.*
Capsicum, or chili pepper, contains capsaicin that is widely used for reducing pain and inflammation.
Organic Super Greens
Want all of the health benefits of an organic green smoothie with none of the hassle? Then this product is perfect for you! Save yourself the time and the mess that goes into making a green smoothie from scratch everyday with our organic green superfood mix. 
Tenvis Organic Super Greens is a wonderful nutrient dense mixture of the best selling, 100% organic superfoods on the market.  Our selection of 40 organic, antioxidant rich, plant based superfoods is low-glycemic and a full serving of fruits and vegetables in a healthy, quick, and convenient scoop!  We also added a probiotic blend with 50 million CFUs to help support your digestive system and immune system.*
Our clean, lean, and green drink mix is naturally sweetened with organic fruits and is low in carbs, with no added sugars, no artificial flavors, colors, or dyes, non-GMO, and vegan friendly. Our custom blend of organic superfoods and prebiotic fiber along with two strains of beneficial probiotics makes this combination a symbiotic superfood!*  
Add our nourishing and cleansing green mix to your morning routine for a refreshing start to your day.  Oats and alfalfa grass powders help support bone health, cardiovascular health, weight management and detoxification*, beet roots help support cardio-respiratory endurance and exercise performance*, spirulina helps support detoxification*.  
Mix one scoop into 6-8oz of your favorite non-citrus juice, water, smoothie, or protein shake.  For best taste, mix into filtered water and add a splash of apple juice.
Tenvis Gut Health Probiotic
Tenvis Gut Health Probiotic brings to you our breakthrough technology in the field of digestive health supplementation. Our patented probiotic protection and delivery process ensures that you receive the benefits of our multi-strain blend alive and well where you need them and in the right quantity. With the help of our unique patented formula, we've placed the living probiotic cells in a protective outer capsule made up of a marine polysaccharide complex derived from a natural source of brown seaweed. Your probiotics now have enhanced protection from acids within the stomach so they can arrive safely throughout your digestive tract to help assist in maintaining healthy intestinal flora!* 
Probiotic bacteria are critical for healthy digestion, help maintain the integrity of the intestinal lining, support proper intestinal mobility, and participate in the detoxification process.*  
Tenvis Gut Health Probiotic contains a four strain blend of 40 billion Colony Forming Units (CFU's) of both highly sought after strains of lactobacillus and bifidobacterium. Our easy to use capsules are shelf stable, require no refrigeration, and are capable of going with you on your travels. By helping to maintain a healthy barrier for your digestive tract, you may help alleviate episodes of bloating and gas.*  
Take one capsule morning and evening.
Deep Sleep
Tenvis Deep Sleep supplement is our clean and natural solution for those seeking a healthy option to achieve a more restful and higher quality sleep through the night.* Our proprietary blend combines just the right amount of vitamins, herbal supplements and essential amino acid compounds to help produce a wonderfully peaceful night's rest, this unique combination helps address the multi-faceted issues present in those who may not be achieving their desired amount and quality of sleep.* 
Each veggie capsule contains an amazing assortment of high quality ingredients to include L-Tryptophan, Valerian Root, Goji Berry, Chamomile, Lemon Balm, Passion Flower, Hops, St. John Wort, GABA, Skullcap, L-Theanine, Ashwagandha, 5-HTP & Melatonin. Each ingredient has its own special role in supporting appropriate sleep cycle patterns, mood regulation, analgesia, cellular regeneration, hormonal balance, muscular contractility, digestion, nerve cell conduction, immune and inflammatory response.*  
For best results as a dietary supplement, take two capsules once a day 20-30 minutes before bedtime with 8 oz. of water or as recommended by your healthcare professional.
 Joint Health

Tenvis Joint Health is your go-to option for a Gelatin Free, Gluten Free, All Natural, & Non-GMO supplement that brings you the best in class blend for your joint health needs*. The Tenvis brand Joint Health veggie capsule contains no Corn, Soy, Lactose, Sugar, Eggs, Tree Nuts or Peanuts, and contains no artificial colors, preservatives or binders.

Do you have aching joints? What is the best solution to help aching joints that is natural, clean, and effective? We here at Tenvis produced a perfect blend of the top selling joint health supplements available in one easy to swallow veggie capsule to fill that need*. Tenvis Joint Health Supplements are rich in Glucosamine and Chondroitin, two of the most desirable supplements to help those looking to have happy and healthy joints*. Our Joint Health blend also supports a reduction in inflammatory response, repairs cartilage and enhances joint mobility and overall flexibility*.  Ease the discomfort in your joints that may occur with athletic activity, weight or age related joint deterioration. 

Our unique combination includes several additional potent and powerful ingredients to assist with maximal joint relief such as Boswellia, Turmeric, Quercetin, Methionine, MSM, and Bromelain. Each of these incredible additions helps to maximize the nourishing benefits of our Glucosamine and Chondroitin supplement*.

We selected the best ingredients to naturally promote the long term vitality of one of most important aspects of health, our ability to move and exercise without the constraints of pain and inflammation in our joints. Love your joints and your joints will love you. Return to your daily routine with vigor with Tenvis Joint Health supplements.
Pure Omega
Tenvis Pure Omega is your best source of pure, clean, and fresh Omega Fatty Acids packed in an easy to swallow softgel. Krill, the favorite food of whales, penguins, and several other sea creatures provides nature's cleanest and sustainably farmed resource for the incredible benefits of EPA, DHA, phospholipids, and astaxanthin. Krill oil supplementation is a great idea for those who do not regularly consume the recommended 8 ounces of seafood per week. Krill Oil is more effective than fish oil at reducing inflammation. 

Pure Antarctic Krill Oil is sustainably sourced and is an abundant natural resource that is far superior to farm raised fish. Farmed fish are regularly raised on diets rich in grains instead of omega rich foods which are the diets of wild fish. The pristine waters of Antartica allow for the healthiest environment for sea life to thrive in bodies of water free from the higher levels of pollution and toxins.

Krill Oil is a phospholipid rich Omega 3 that is easier to absorb in the body which confers the maximal health benefits of this natural resource. Phospholipids are shown to help absorb both DHA and EPA. Astaxanthins are a pink/orange pigment which give krill their distinct color and also give a boost of antioxidants while also  supporting a reduction in LDL cholesterol, boosting healthy cholesterol HDL levels, improving skin health and reducing inflammation. Improvements in arthritis symptoms and significantly improved insulin resistance have also been studied when compared with olive oil.

Omega 3 fatty acids help reduce several risk factors of heart disease such as high cholesterol and hypertension, (high blood pressure). Omega 3's reduce inflammation and are important for brain memory and cognitive performance and function.

Two Softgels of Tenvis Pure Omega provide 1000mg of  essential Omega fatty acids. Buy the best, pristine and clean omega supplement on the market today with Pure Omega by Tenvis. 
Immediate Immunity
Immediate Immunity

We are so excited to bring this collection of top USDA certified organic immune boosting ingredients to you! With an all-in-one solution to support your immune health we bring to you Immediate Immunity! A fast, easy, and efficient way to know that you are covered when you need it most! This best-in-class collection of high demand vitamins, herbs, fruits, & vegetables all pack a punch to boost your immune strength and response. Each easy to swallow veggie capsule comes with 200% of the recommended daily value (RDV) of Vitamin C, over 100% RDV of Vitamin E, 200% of Vitamin B6, and 146% of the recommended daily amount of Zinc!

We know it can be tough to remember what to take, especially when we are not feeling our best. It can also be challenging to locate some ingredients when we need them most or expensive trying to get several bottles of each individual ingredient. To simplify that whole process we put all the best ingredients together in one easy to swallow veggie capsule ready for you at a moment's notice to support a vibrant and healthy immunity.  Additionally, we added 4.8 billion CFU's (colony forming units) of the immune boosting probiotic strain Lactobacillus acidophilus.

Here are some of our favorites immune boosting ingredients included in Immediate Immunity:
Elderberry (sambucus nigra) is one of the most commonly taken medicinal plant supplements used to treat cold and flu symptoms. Traditionally elderberries and their leaves have been used to treat fevers and to relieve pain, swelling, and inflammation. Elderberries provide a rich source of flavonols like quercetin, phenolic acids, and anthocyanins (all potent antioxidants).   

Echinacea purpurea contains polysaccharides and glycoproteins that are believed to provide several health benefits including boosting the immune system. It is now best known as a preferred herbal remedy for common colds and the flu. Echinacea contains caffeic acid( antioxidant/anti-inflammatory), rosmarinic acid (antioxidant) and alkamides that assist worn out antioxidants.

Garlic brings several health benefits that are believed to be due to containing sulfur compounds. Many add garlic to their diet as a means to boost their immune system. Studies have shown reduction of the severity in cold and flu symptoms and prevention of the common cold in those taking increased amounts of garlic.  

Turmeric (Curcumin) is a yellow-orange spice that acts as a natural anti-inflammatory that helps to support anti-aging, heart health, joint maintenance, digestive health, regulates metabolism and weight management, supports memory function and general health and well-being.*  There are over 12,500 peer reviewed articles published about the curcumin in turmeric and its health benefits!
L- Glutamine is an amino acid that is abundant in our bodies and helps us to function by regularly producing this essential amino acid, however, our bodies may need additional supplies of L-glutamine when we are experiencing higher levels of stress as a result of injury or illness.
Lymphocytes, the white blood cells that fight infection and disease, derive the majority of their energy needs from glutamine. Since a decreased quantity of glutamine occurs when we become ill or are injured, the ability of lymphocytes to properly defend us becomes reduced. When we are healthy and uninjured, It is unknown if our immune systems are boosted by increased glutamine supplementation, however there are studies that demonstrate faster recovery times and less complications due to illness when taking increased amounts of glutamine. 
D3+K2
Tenvis Vitamin D3 + K2 is a perfectly balanced and optimized combination of the two most biologically active forms of D3 & Vitamin K2 combined with Calcium and black pepper extract added for superior bioavailability and absorption. D3 + K2 help boost the immune system, support heart health and bone health, and assist with improving blood circulation. 

Vitamin D3 + K2 by Tenvis is a simple and effective way to receive the recommended 5,000 IU of Vitamin D as advised by the Vitamin D Council while also enjoying the health benefits of sunshine in a bottle without the sun exposure. D3 is a natural and extremely important hormone produced when our bodies receive adequate UVB exposure. D3 in appropriate amounts supports hundreds of metabolic processes and our formula provides for maximum absorption by pairing the same biologically active form of D3 with Vitamin K2, calcium, and black pepper extract. This ensures we deliver you the most effective and highest quality choice of D3 supplements on the market.

Vitamin D3 is fat soluble and more easily absorbed when taken with a form of healthy fat. We recommend consumption of this supplement with your preferred form of healthy fat. While some products on the market try to include these fats in their capsules, these may spoil over time or may result in cloudiness and coloration irregularities between capsules. We want to ensure that you get the right amount of D3 in each supplement without sacrificing the dosage or quality of each veggie capsule. 
Our D3 veggie capsules are easy to swallow, contain no gelatin, are free of gluten wheat, corn, soy, eggs, tree nuts, peanuts, fish, or shellfish. 
Clean, Lean, Serene Guarantee – The Tenvis D3 +K2 blend is all-natural and contains no artificial ingredients, colors, flavors, or dyes.  Our supplements are made with trusted, quality ingredients, they are produced in the USA in an FDA registered facility, are third party lab tested, and packaged under the highest international standard of manufacturing quality (GMP) to ensure both efficacy and safety. 
*These statements have not been evaluated by the Food and Drug Administration.  This product is not intended to diagnose, treat, cure or prevent any disease. Do not exceed the recommended dose. Keep out of reach of children. Do not use if safety seal is broken.
All information presented here, on any part of this website, on any product or its packaging is educational only and is not meant as a substitute or alternative to a healthcare provider. Always consult with a healthcare professional before starting any new medication, vitamin, supplement, diet or exercise program or if you suspect that you might have a health problem. Children, people with known medical conditions, and pregnant or nursing women should not consume this product without first checking with a healthcare provider.
Any testimonials on this site are based on individual results and are not guaranteed to give everyone the same results.
Please read our full Terms of Use Agreement for more information and the terms and conditions governing your use of this website and its products and information.
We're actively following the latest developments about the Covid-19 outbreak. We want to keep you informed about how it might impact your orders with Tenvis Co. 
We use several manufacturers throughout the US that ship from various warehouses. As of right now, all warehouses are still actively fulfilling orders. 
As of right now, processing time after placing an order is 2-3 days but since some warehouses may be working on minimal staff, that could delay your processing time by a few days. 
Shipping times will vary based on current USPS delivery times. Right now we are no longer guaranteeing overnight and express deliveries. 
We thank you for your understanding during this and hope that you all are staying healthy.